Miss Management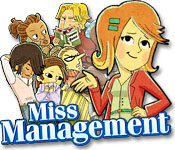 I've discovered that time management games aren't just restricted to restaurant type games. So allow me to highly recommend
Miss Management
. You can get the free trial download from
Gamelab
,
Big Fish Games
,
Yahoo Games
,
iWin
and
Fenomen Games
but this one is definitely worth purchasing.
I played all the way through the first time, not worrying about completing the tasks in the assigned number of days. Then I went back to achieve the extra stars. I didn't have any difficulty until Episode 15. Sometimes if I could just know what tasks were going to be unlocked or just plan my first day, that would be enough. Although, in general it's a good rule of thumb to try to plan to accomplish all of the required tasks in the first 1/2 or 2/3 of the time allowed.
I've listed the number of days that you have to complete each episode to get all the stars and I've included some information and hints to help you if you get stuck on some of the episodes that I found challenging at times. If anyone wants hints on another episode or more hints on a listed episode, just leave a comment.
Season 1
Episode 1 (2 days)
: Tutorial (You can't skip the dialogue for this level otherwise you won't be able to access more than one star. You can skip the dialogue for all the other levels, but I would recommend watching the scenes the first time you play because it does help remember the quirks about each personality.)
Read more...


Episode 2 (2 days)
Episode 3 (2 days)
Episode 4 (2 days)
Episode 5 (2 days)
Episode 6 (3 days)



Season 2


Episode 7 (4 days)
Episode 8 (4 days)
Episode 9 (4 days)
Episode 10 (4 days)
Episode 11 (5 days)
Episode 12 (5 days)



Season 3


Episode 13 (5 days)
Episode 14 (5 days)

Episode 15 (4 days):
* Finishing Pearl & Winston doing no tasks unlocks Winston's arcade
* Finishing Luke & Ashley doing no tasks unlocks Luke's bathroom visits
* Finishing Pearl's smoking unlocks Pearl talking to Ashley at the w/c



Day 1


* Luke & Ashley do no tasks
* Start Duncan at the arcade
* Start Ashley's bathroom visits



Day 2


* Pearl & Winston do no tasks
* Finish Duncan at the arcade
* Start Luke's bathroom visits (unlocked by Luke & Ashley doing no tasks)

Episode 16 (4 days)

Episode 17 (4 days):
* No one stressing out unlocks Pearl talking to Denise at water cooler
* Finishing Ashley's 10 tasks unlocks Duncan's 20 tasks



Day 1


* No one stress out
* Start & Finish Mahavir talking to Ashley



Day 2


* Start & Finish Ashley's 10 tasks (upgrade her skills with manuals)



Episode 18 (4 days)

:
* No one stressing out unlocks Luke listening to the radio
* Finishing Pearl's smoking unlocks Ashley's tasks
* Finishing Mahavir's nap unlocks Ashley complaining to Pearl
* Finishing Pearl's tasks unlocks Luke's tasks



Day 1


* No one stress out
* Mahavir's nap
* Start Pearl's tasks (as many as possible using coffee & diet soda)



Day 2


* Finish Pearl's tasks (manuals to upgrade Luke while she's finishing)
* Start Luke's tasks (unlocked by finishing Pearl's tasks)
* Start & Finish Luke playing the radio
* Start Pearl's smoking



Day 3


* Finish Pearl's smoking
* Start Ashley's tasks (unlocked by finishing Pearl's smoking)
* Start Ashley complaining to Pearl
* (stock up on manuals and coffee to upgrade Ashley when Day 4 starts)



Season 4





Episode 19 (4 days)

:
* Finishing Luke's tea unlocks Pearl's smoking
* Finishing Luke's manuals unlocks Luke's bathroom visits
* Finishing Ashley's manuals unlocks Ashley's bathroom visits
* Finish Nadine talking to Pearl at w/c unlocks Winston's arcade & his manuals



Episode 20 (4 days)

:
* Finishing Mahavir's tasks unlocks Mahavir's nap
* Finishing Ashley's tasks unlocks Ashley's bathroom visits
* Finishing Luke's tasks unlocks Ashley talking to Nadine at w/c
* Finishing Nadine's air conditioning unlocks Nadine's smoking

Note: it may be tempting to upgrade each person's skills with manuals for this cross-training episode, but in my experience that seems to limit the number of tasks you get for the area that's been upgraded. Your time and money is better spent on donut bribes to keep everyone calm.



Day 1


* Start Luke's tasks
* Start Ashley's tasks
* Start Nadine's air conditioning (turn off if Luke or Ashley working)



Day 2


* Continue Luke's tasks
* Continue Ashley's tasks
* Continue Nadine's a/c
* Start & Finish Mahavir's tasks



Day 3


* Finish Luke's tasks
* Finish Ashley's tasks
* Start & Finish Mahavir's nap
* Finish Nadine's air conditioning
* Start Ashley's bathroom visits (unlocked by finishing Ashley's tasks)
* Start Nadine's smoking (unlocked by finishing Nadine's a/c)



Episode 21 (4 days)

:
* No snacks or drinks for one day unlocks Mahavir's tasks
* Finishing Luke's tasks unlocks Nadine's smoking
* Finishing Mahavir talking to Nadine at w/c unlocks Ashley's tasks
* Finishing Luke's infusion at w/c unlocks Pearl's smoking



Day 1


* No snacks or drinks (unlocks Mahavir's tasks)
* Start Luke's tasks (upgrade tech skills with manual? try to do half)
* Start Mahavir talking to Nadine at water cooler



Day 2


* Finish Luke's tasks (unlocks Nadine's smoking)
* Finish flirting (unlocks Ashley's tasks)
* Start Mahavir's tasks
* Start Nadine's smoking



Day 3


* Start & Finish Luke's infusion (unlocks Pearl's smoking)
* Finish Mahavir's tasks (buy all 4 manuals, coffee & diet soda)
* Finish Nadine's smoking
* Start Pearl's smoking



Day 4


* Start & Finish Ashley's tasks
* Finish Pearl's smoking



Episode 22 (4 days)

:
* Finishing Pearl talking to Luke at w/c unlocks Luke's bathroom visits
* Finishing Luke's tasks unlocks both Ashley's bathroom visits and Nadine wanting Luke to stress out and leave
* Finishing Luke at water cooler unlocks Nadine's air conditioning
* Finishing Luke's treats unlocks Mahavir's nap



Episode 23 (5 days)

:
* No food or drink unlocks Winston's arcade play
* No arcade or naps unlocks Ashley talking to Nadine at water cooler
* Finishing Winston's tasks unlocks Ashely talking to Pearl at w/c
* Mahavir's naps unlocks Mahavir's treats



Day 1


* Ashley talking to Denise at water cooler
* No food or drink
* No arcade or naps



Episode 24 (5 days)

:
* No stress for a day unlocks Nadine's air conditioning
* Finishing Pearl's tasks unlocks Nadine's smoking
* Finishing Mahavir's nap unlocks both Ashley's tasks and Winston's tasks
* Finishing Pearl's smoking unlocks Winston's arcade play



Day 1


* No stress
* Start Pearl's tasks (buy writing manual)
* Start Mahavir's napping



Season 5





Level 25 (4 days)

:
* Brooke doing more work than anyone else for the day unlocks Brooke's 30 tasks
* Winston doing all tech work for one day unlocks Winston wanting a/c & music
* Finishing Winston's arcade play unlocks Mahavir talking to Ashley at w/c
* Finishing Denise talking to Nadine at w/c unlocks Brooke's cardio



Day 1


* Brooke does more work than anyone else (but no tech, use choco-coffee & diet soda whenever she works)
* Winston does all the tech work
* Start Nadine at water cooler
* Start Winston at arcade



Episode 26 (5 days)

:
* Finishing Brooke's tasks unlocks Mahavir's nap
* Finishing Denise talking to Winston at w/c unlocks Nadine doing all financial and writing tasks for one day
* Finishing Mahavir talking to Brooke at w/c unlocks Mahavir's writing tasks
* Finishing Brooke's cardio unlocks Winston's arcade



Day 1


* Start Mahavir talking to Brooke at water cooler
* Start Brooke 40 tasks (using coffee for Brooke & diet pop for Denise)
* Start Denise talking to Winston at water cooler
* Start Brooke's cardio



Day 2


* continue



Day 3


* continue



Day 4


* finish Mahavir's writing tasks



Day 5


* Nadine does all writing & financial tasks on day 5



Episode 27 (6 days)

:
* Finishing Brooke's cardio unlocks Mahavir's nap (must be completed in single day)
* Finishing Ashley talking to Denise at w/c unlocks Winston wanting a/c & music (nobody can stress out… keep lots of cinnamon buns on hand!)
* Finishing Ashley talking to Nadine at w/c unlocks Ashley talking to Winston at w/c
* Finishing Nadine on the treadmill unlocks Ashley talking to Mahavir at w/c



Day 1


* Start Ashley talking to Nadine at water cooler
* Start Brooke's cardio
* Start Ashley talking to Denise at water cooler



Day 2


* Finish Ashley talking to Nadine (unlocks Ashley talking to Winston)



Day 3


* Finish Brooke's cardio (unlocks Mahavir's nap)
* Finish Ashley talking to Denise (unlocks Winston a/c & music)
* Start Nadine on the treadmill



Day 4


* Start & Finish Mahavir's nap



Day 5


* Start & Finish Winston's a/c & music (nobody stress out!)



Day 6


* Finish Ashley talking to everybody



Episode 28 (6 days)

:
* Brooke doing all the work one day unlocks Brooke's 50 tasks
* Winston doing all the tech tasks one day unlocks Nadine's 40 tasks
* Nadine doing all the financial tasks one day unlocks Brooke's cardio
* Finishing Mahavir talking to Denise at water cooler unlocks Mahavir's nap



Day 1


* Start & Finish Mahavir talking to Denise at water cooler (put Brooke on the treadmill when you're talking to him)
* Start & Finish Brooke doing all the work (use choco-cafficino and diet soda as needed, don't worry about who stresses out… just let them)



Day 2


* Start & Finish Winston doing all the tech tasks today (use treats as needed so nobody stresses out)
* Start Brooke's 50 tasks (leave Nadine by the water cooler so she doesn't stress out)



Day 3


* Start & Finish Nadine doing all the financial tasks today, included in Nadine's 40 tasks unlocked by Winston (use treats as needed so nobody stresses out)
* Continue Brooke's 50 tasks
* All required goals should be finished by the end of the day



Day 4


* Continue



Day 5


* Continue



Day 6


* Start & Finish Mahavir's nap (doesn't matter who stresses out)
* Finish Brooke's cardio



Episode 29 (6 days)

:
* Finishing Timothy's radio playing unlocks Nadine's a/c
* Finishing Brooke's cardio unlocks Winston's arcade
* Finishing Timothy's art tasks unlocks Timothy talking to Winston at w/c
* Finishing Nadine talking to Denise at w/c unlocks Brooke's 40 tasks



Day 1


* Earn enough to buy art books & coffee for Timothy ($22)
* Start & Finish Timothy's radio (don't worry if Nadine stresses out)
* Start Brooke's cardio



Day 2


* Continue



Day 3


* Start & Finish Timothy talking to Winston at water cooler (unlocked by Timothy's art tasks)
* Start & Finish Nadine's air conditioning



Day 4


* Start Nadine talking to Denise at water cooler



Day 5


* Start Brooke's 40 tasks (unlocked by Nadine finishing talking to Denise)



Episode 30 (8 days)

:
* Finishing Brooke's yoga on couch unlocks Nadine talking to Brooke at water cooler
* Finishing Winston talking to Denise at w/c unlocks Brooke standing alone at w/c
* Finishing Brooke's fast unlocks Mahavir's nap
* Finishing Winston finishing a/c & music without stress unlocks Winston's arcade



Day 1


* Start & Finish Brooke's fast (have Brooke do nothing, everyone else does nothing but work)



Day 2


* Start & Finish Winston's air conditioning & music with no one stressing (lots of cinnabuns at other treats)



Day 3


* Start & Finish Mahavir's nap (don't worry about Nadine stressing out)



Day 4


* Start Brooke's yoga on couch
* Start Winston talking to Denise at water cooler
(How I did this one: Brooke on couch while Denise talking with Winston at water cooler. Wait until Nadine is getting ready to blow then send everyone back to their desk while you go to the store and stock up on caffeine and treats then do a sprint to get tasks finished, then Brooke back to couch and Winston & Denise back to w/c. Having said that, if you'd rather let either Nadine or Mahavir stress out and leave, that won't stop you from completing the goals.)



Day 5


* Continue



Day 6


* Continue



Day 7


* Start Brooke standing alone at water cooler (unlocked by Winston talking to Denise)
* Alternate with Nadine talking to Brooke at water cooler
* Start & Finish Winston's arcade marathon (unlocked by Winston's a/c & music)



Day 8


* Finish Brooke standing alone at water cooler
* Finish Nadine talking to Brooke at water cooler

Labels: downloads, hints, point-and-click, time-management