Fun with Fashion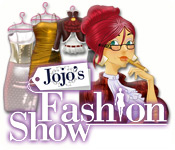 JoJo's Fashion Show
is the best fashion-themed computer game that I have ever played, hands down, bar none, no contest. It's a time management game with real flair; it's creative, it has variety and really cool clothes! As you can see, I can't rave about this game enough. I'm hooked!
Fashion Solitaire
is another fashion game with a unique game play; it's pretty cool but I didn't like the clothes as much as in JoJo's.

Fashion Fits!
reminded me more of a Diner Dash style game in that you have customers coming into the store at random intervals and you're responsible for stocking shelves, cleaning changing rooms, cash, customer service, etc. Plus there are the usual upgrades, etc. I'm not sure if I'll end up buying it, but I definitely wasn't ready for the trial to end when it did… so that says something.
Posh Boutique
also reminded me of a Diner Dash style game, but in this case it felt old and tired rather than a successful time management formula. I don't know why I didn't enjoy it as much as Fashion Fits, I just didn't. If I were you, assuming the concept intrigues you, I'd give them both a chance because I think it's just personal preference and not that one game is superior to the other.
Fashion Boutique
is also reminiscent of this style but not as well done, I thought, and I didn't enjoy having to drag the customers around as part of the game play.
Read more...


Fab Fashion

and

Fashion Rush

are both quite similar in their game play even though their graphics look very different. They both require a similar first step (Measuring a model in the first case, taking a client's order in the second), then cutting the fabric, then sewing the fabric, then delivery of final outfit. Both add accessories, new designs, etc. I think I slightly preferred Fab Fashion, just because you have more control over the upgrades, new designs, etc.

Vogue Tales

is yet another game along similar lines. In none of these cases did I feel the need to purchase at the end of the free trial period, however. So I recommend trying them out, but you may not end up wanting to buy them.



Fashion Craze

might be fun or it might not, but I couldn't tell you because—as with all Alawar games that I've attempted to play — i.t … r.u.n.s … s.o.o.o.o … s.l.o.w.l.y … t.h.a.t … i.t … m.a.k.e.s … m.e … w.a.n.t … t.o … k.i.l.l … m.y.s.e.l.f…. So I have only "spent" four minutes of my 60 minute trial but it took me 20 minutes to play that so-called four minutes. If Alawar games work for you, knock yourself out. But if you've had trouble with them in the past, then avoid this one, too (you can read about my Alawar frustrations in Farm Frenzy Fails).



FYI...

Zen Fashion

may have fashion in the title and may have some vague connection to fashion, but it's actually a matching game, not a time management one. And not a particularly special matching game, in my opinion.

Posh Shop

is another fashion game that is more of a match game than a time management one but, in this case, it's a unique style of match game that I actually really enjoyed.
Labels: downloads, fashion, time-management